Rebrand 2018
A tech startup turned global mobility platform in eight short years deserves a holistic brand system that's instantly recognizable, works around the world, and is efficient to execute.
Members / roles

Uber Brand Experience team

Wolff Olins

Custom typeface design: MCKL / Jeremy Mickel
Doing it the right way
We set off to learn what the business needed globally during a period of transition. We used our learnings to drive our work of creating a brand that both served our business and engaged our audience.
Building off our strengths
One thing was clear: a truly iconic brand system would leverage the power of our name recognition. We also found an overwhelmingly positive association of our brand with the color black.
What we learned
01

Let in the light, embrace black

02

Invest in a wordmark, not a symbol

03

Bring back the U
Movement ignites opportunity
As a brand, we believe movement ignites opportunity. The brand system highlights movement as effortless as tapping our app to request ride and offers options to celebrate the endless opportunity movement makes possible.
The System
Our brand system is made up of nine elements.
Logo
Our logo is approachable, easy to read, and takes full advantage of our name recognition. Optical kerning, refined weight, and defined clear space, as well as well delineated placement in relation to other content, all help to make it as instantly recognizable as possible.
Logo in use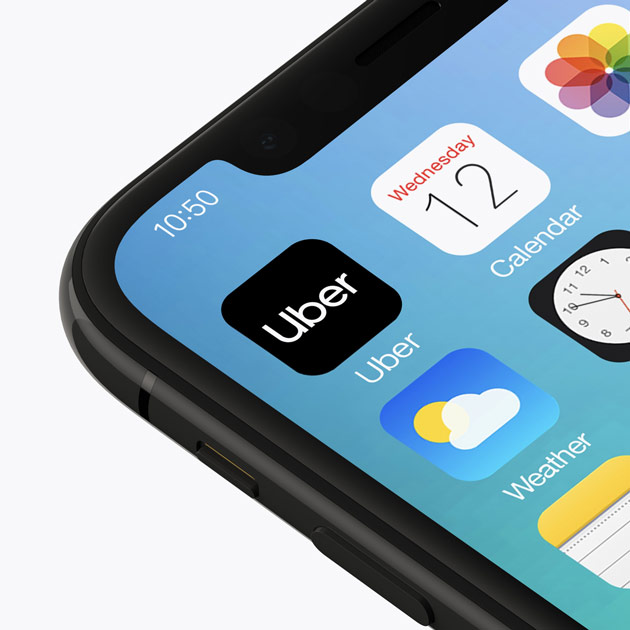 Investing in the wordmark as the logo, no need for a symbol.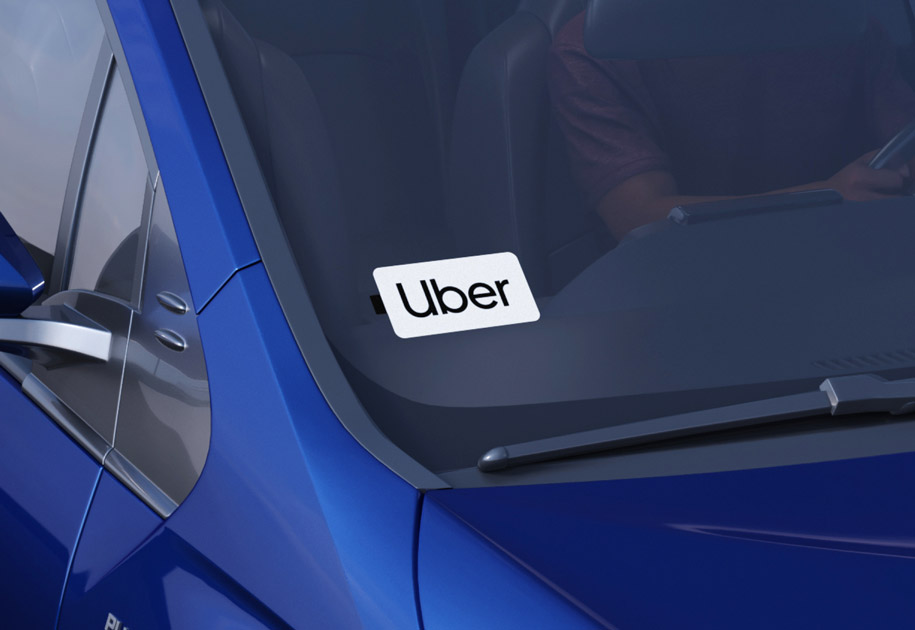 Easily recognizable
Composition
Our composition system is elegant in its sheer simplicity of use — plus, it creates a subtle "U" wherever it appears. By defining the grid based on the logo the system stays flexible and beyond easy to apply.
Background
The bit

U

U, optimized for content

The U-frame
U-Frame guidance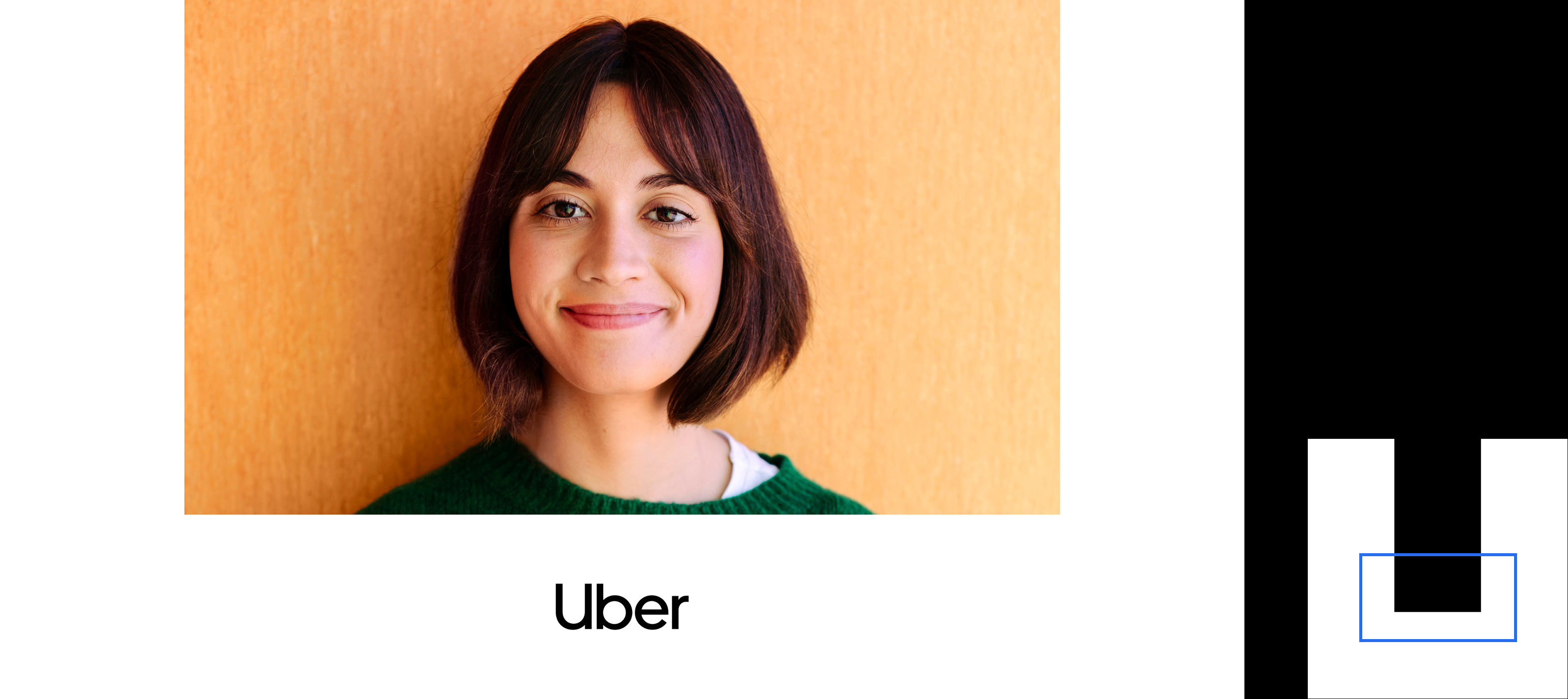 U-Frame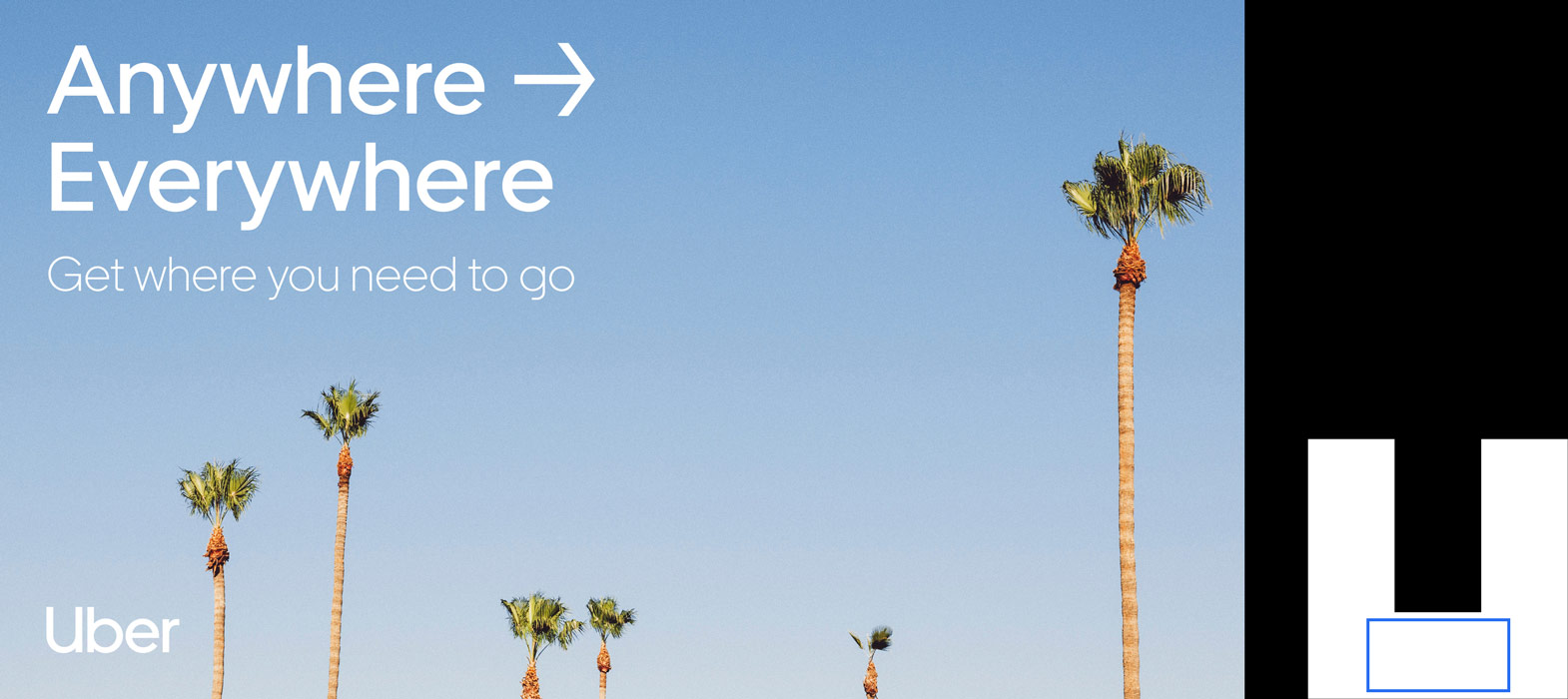 Full bleed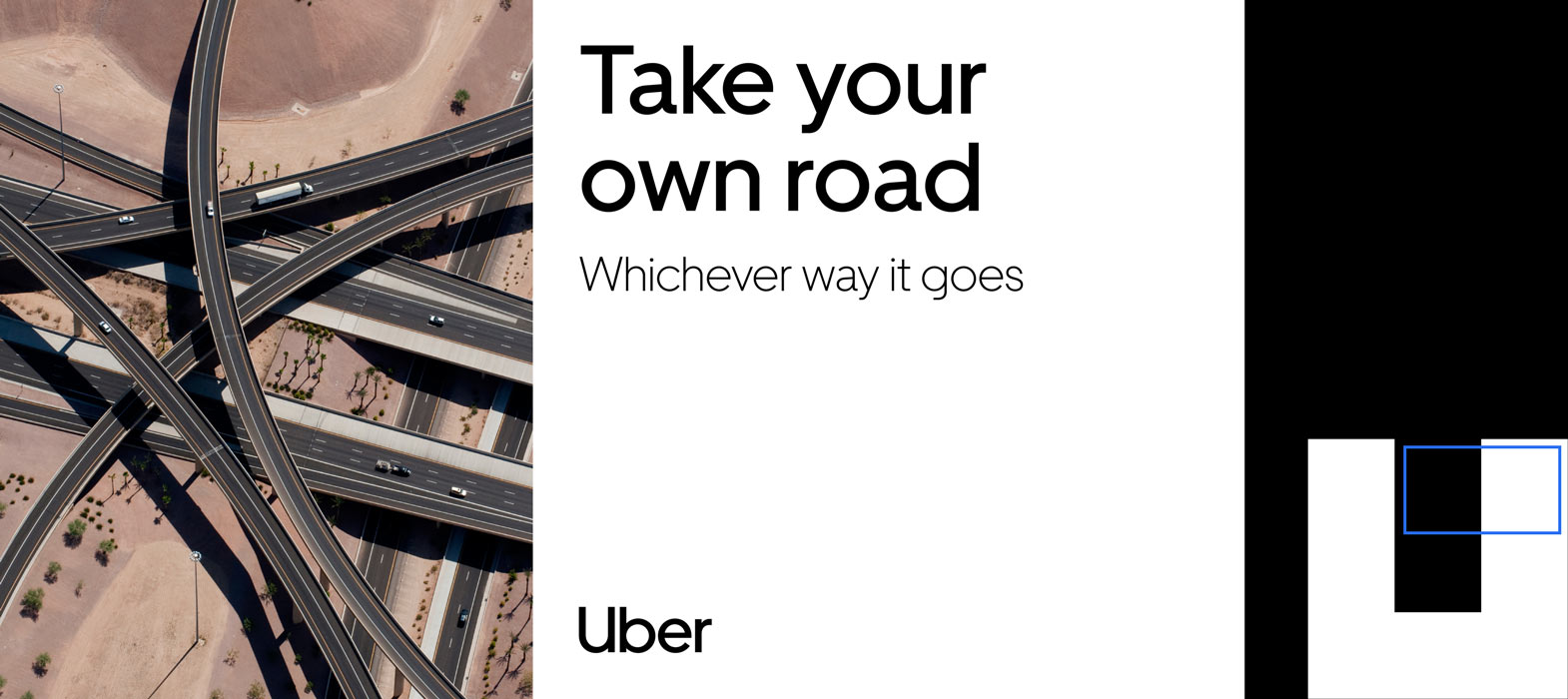 50:50
U-frame in use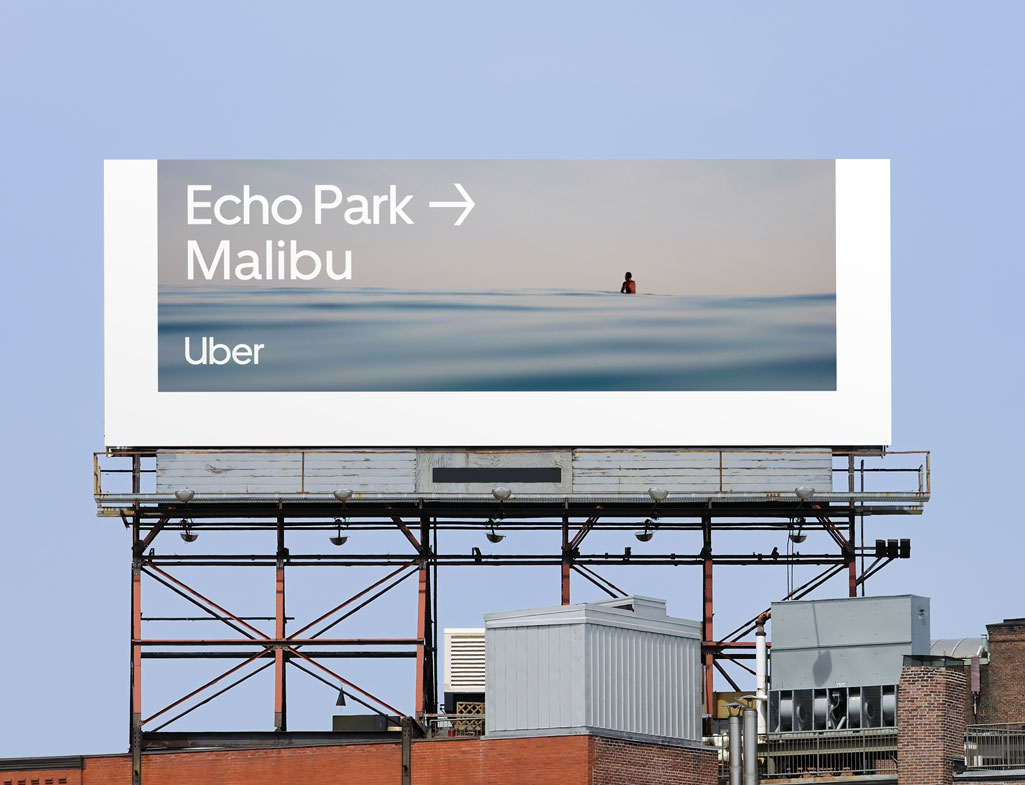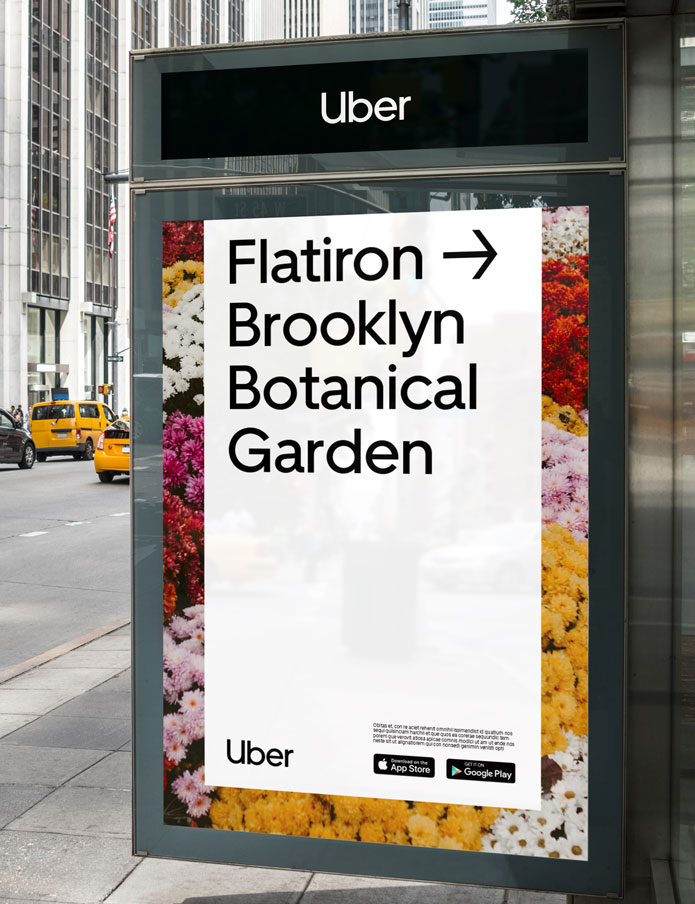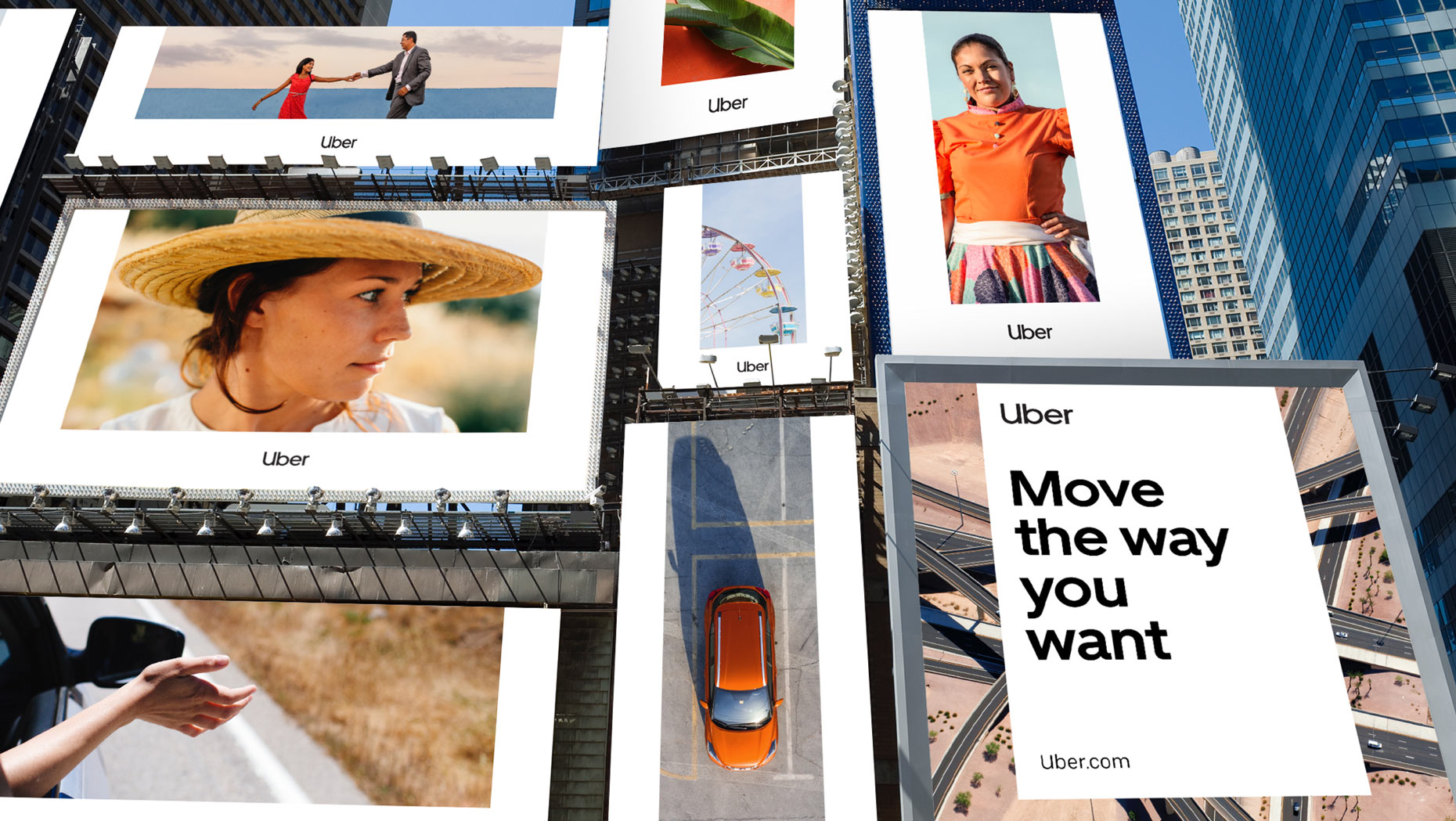 Typography
Our typography is as unique and easy to use as we are. Inspired by the world's best used transportation examples, it was designed to maximize its impact across all applications while keeping it easy to read, ownable, and highly recognizable.
Uber Move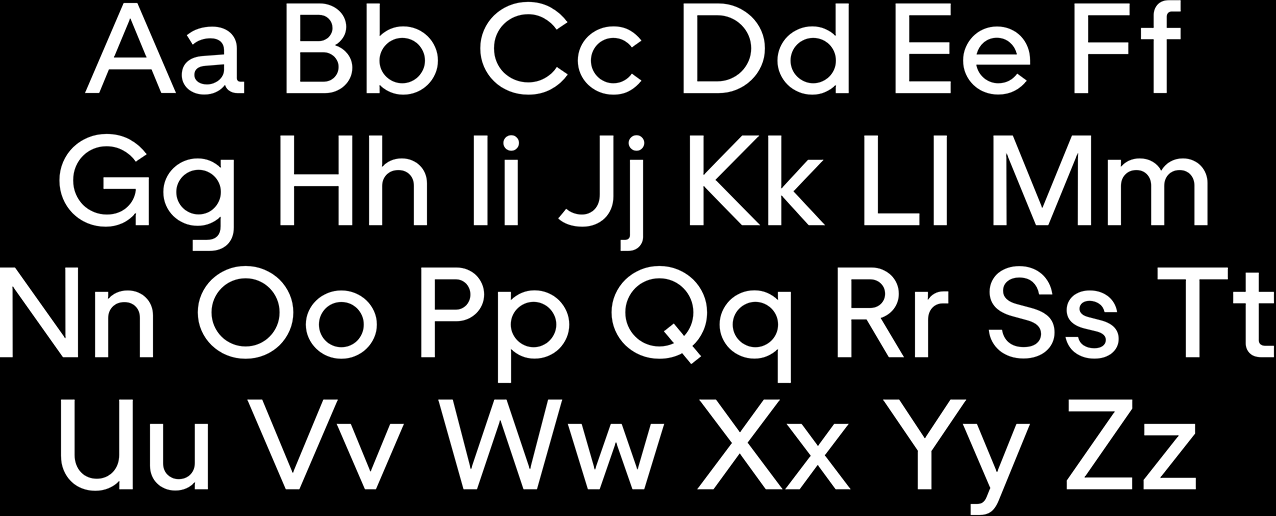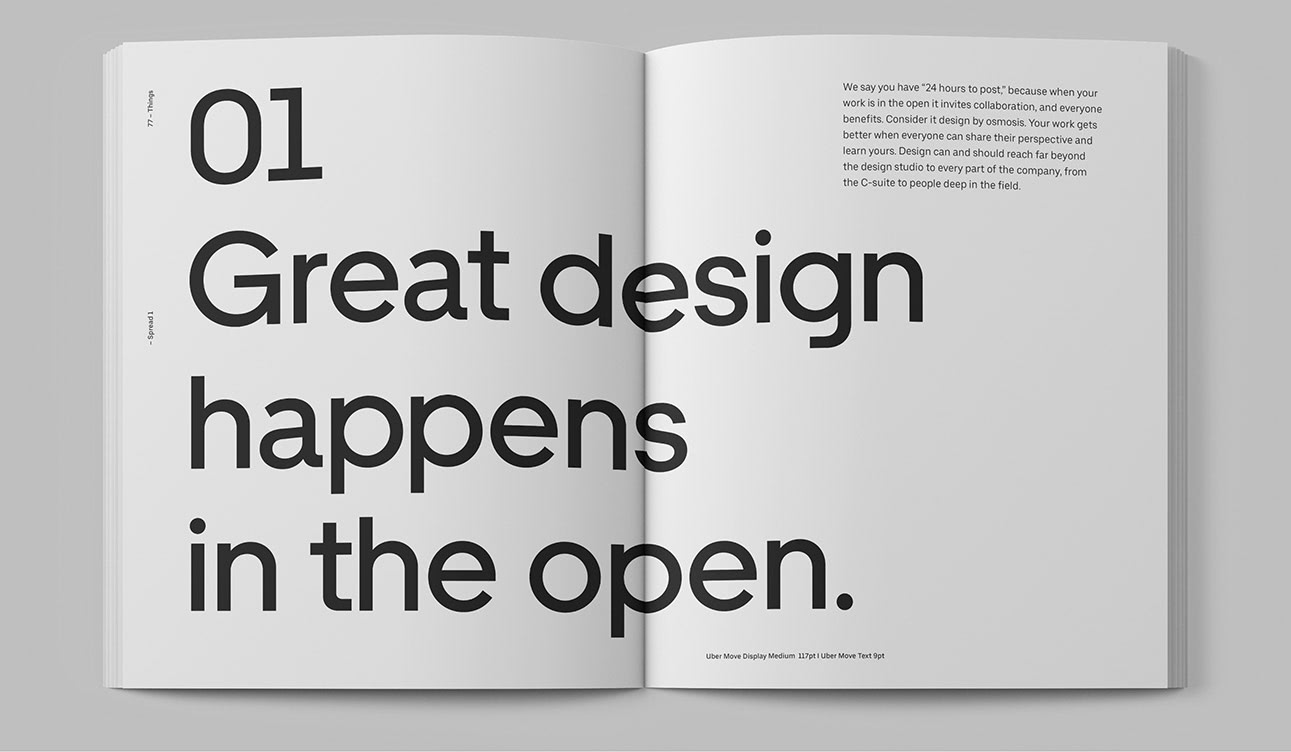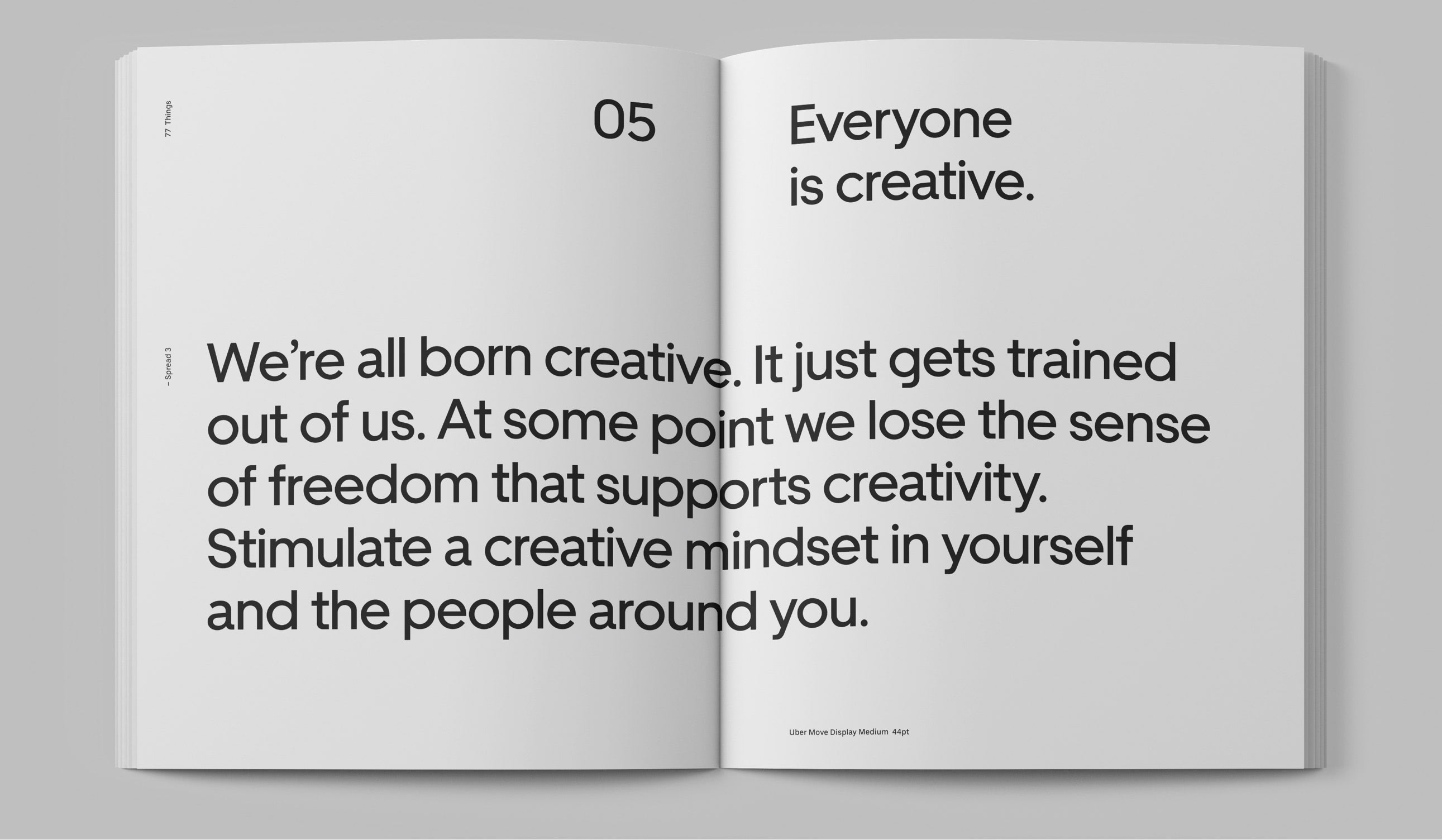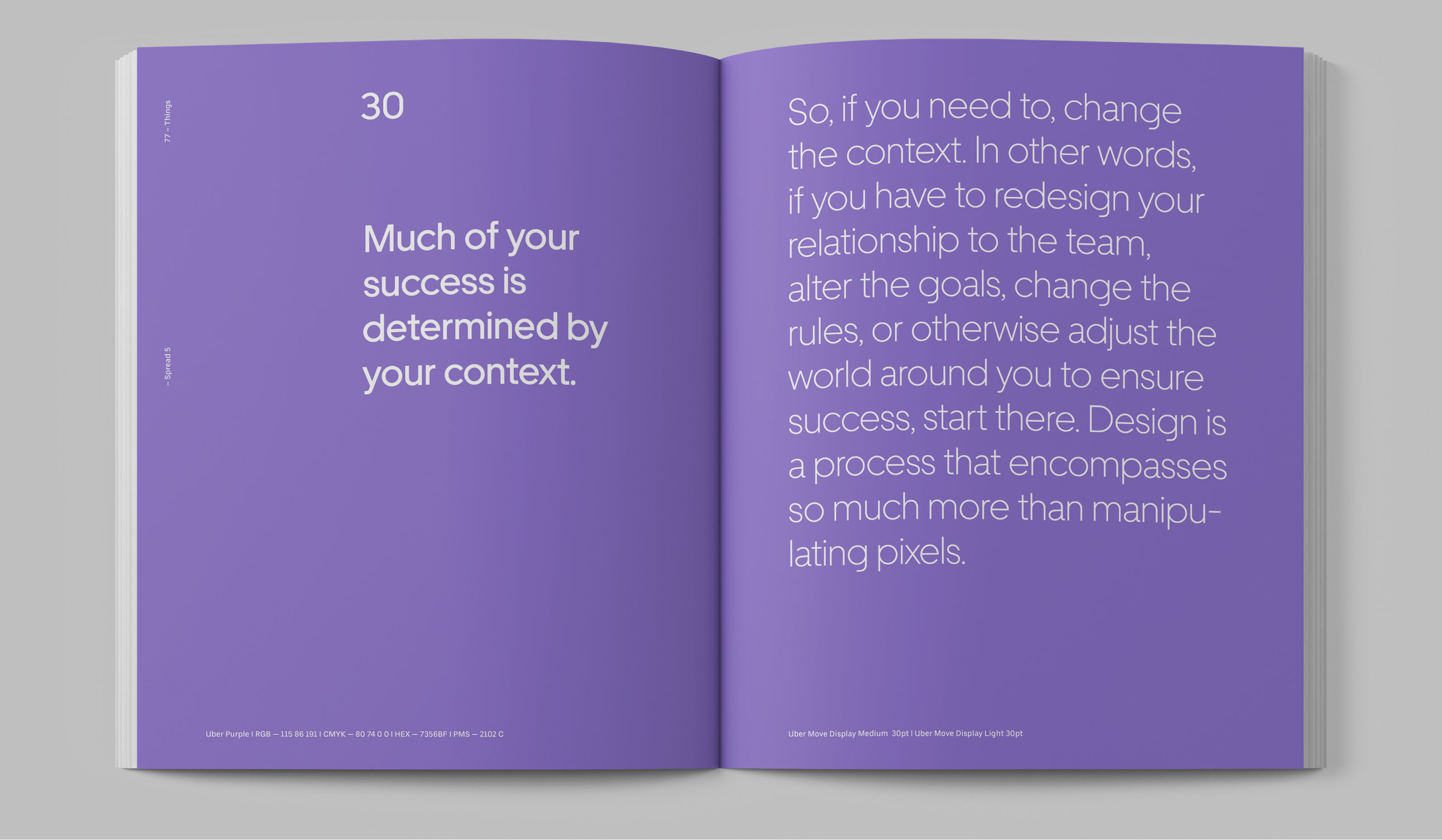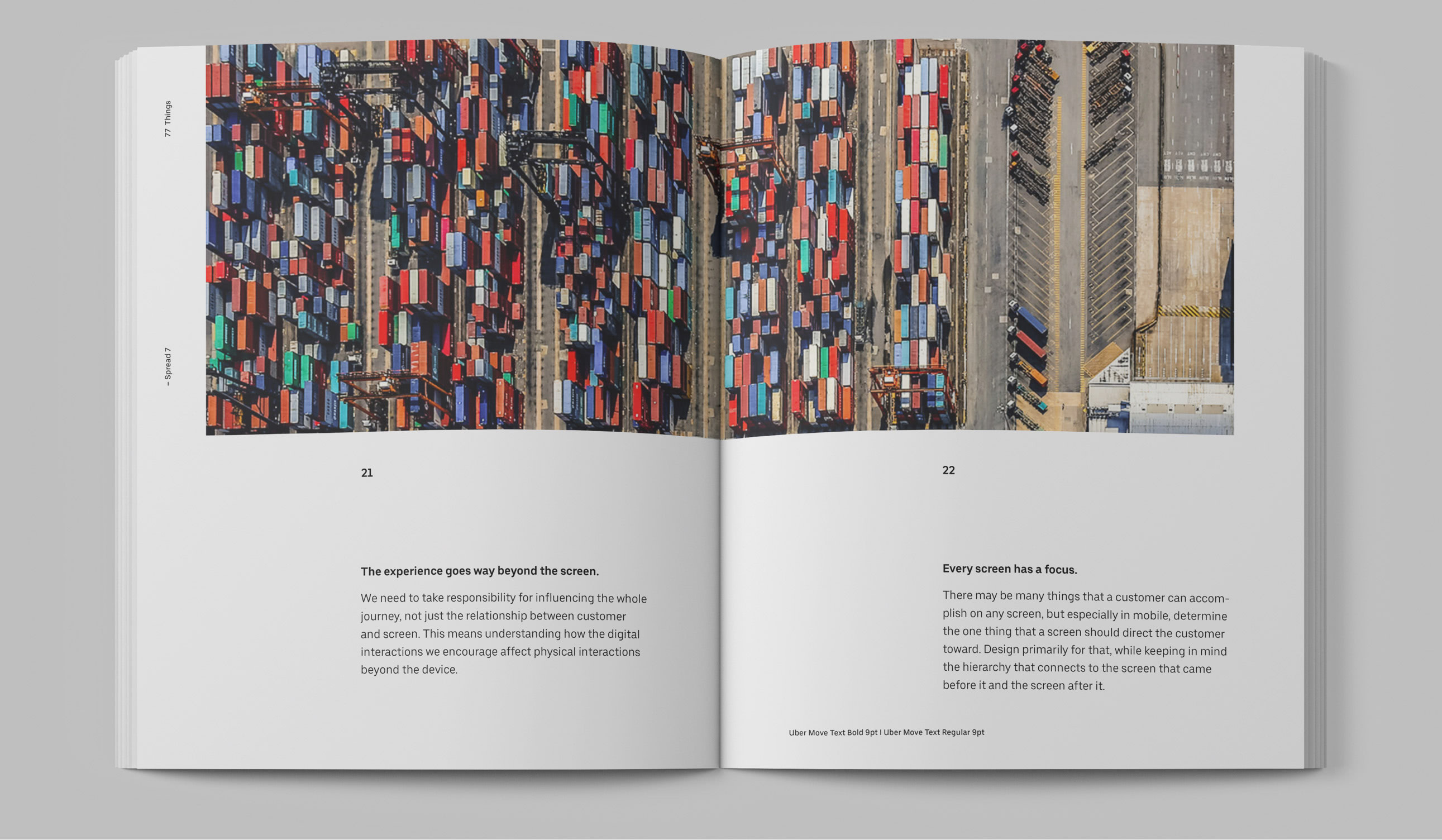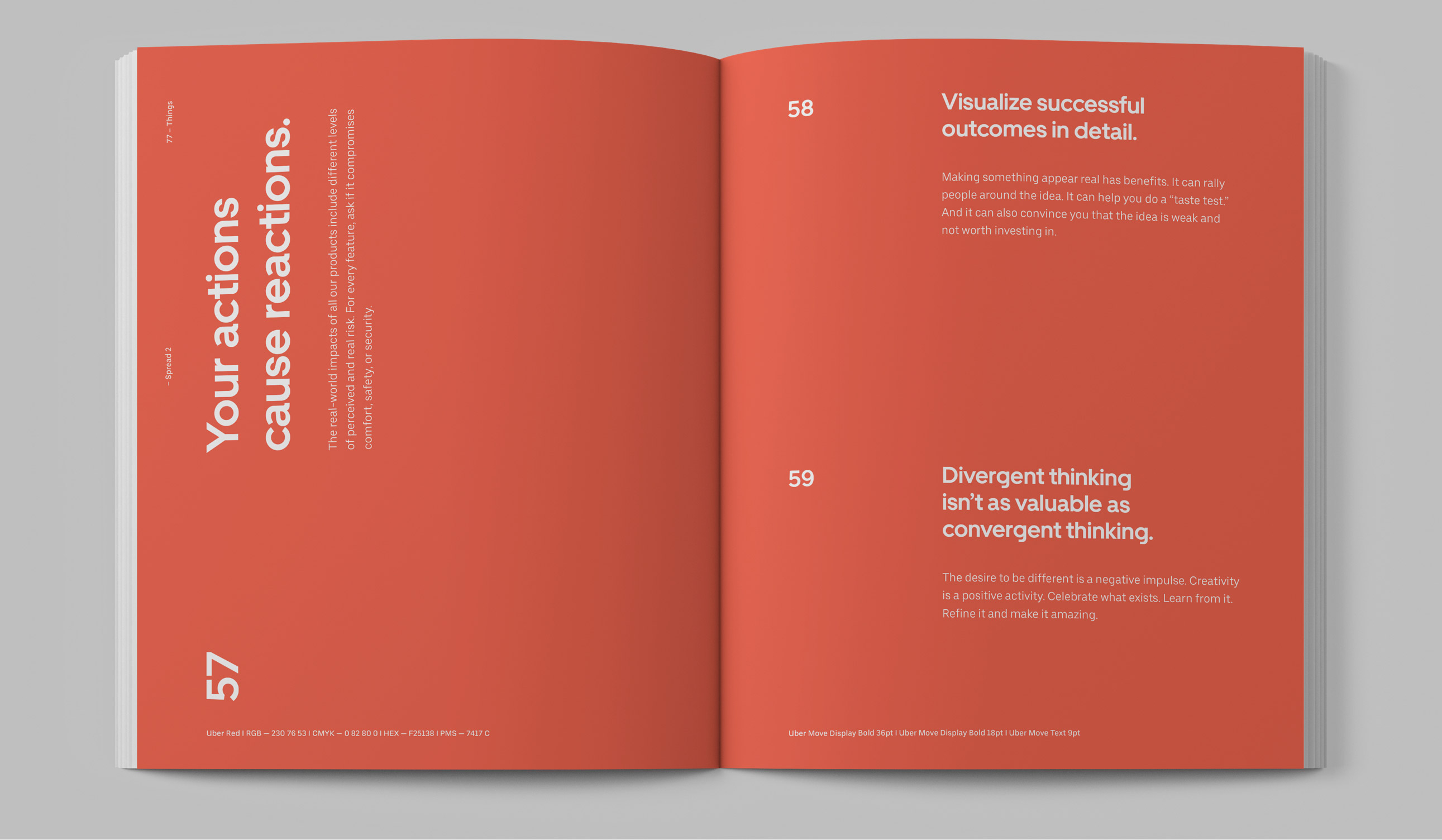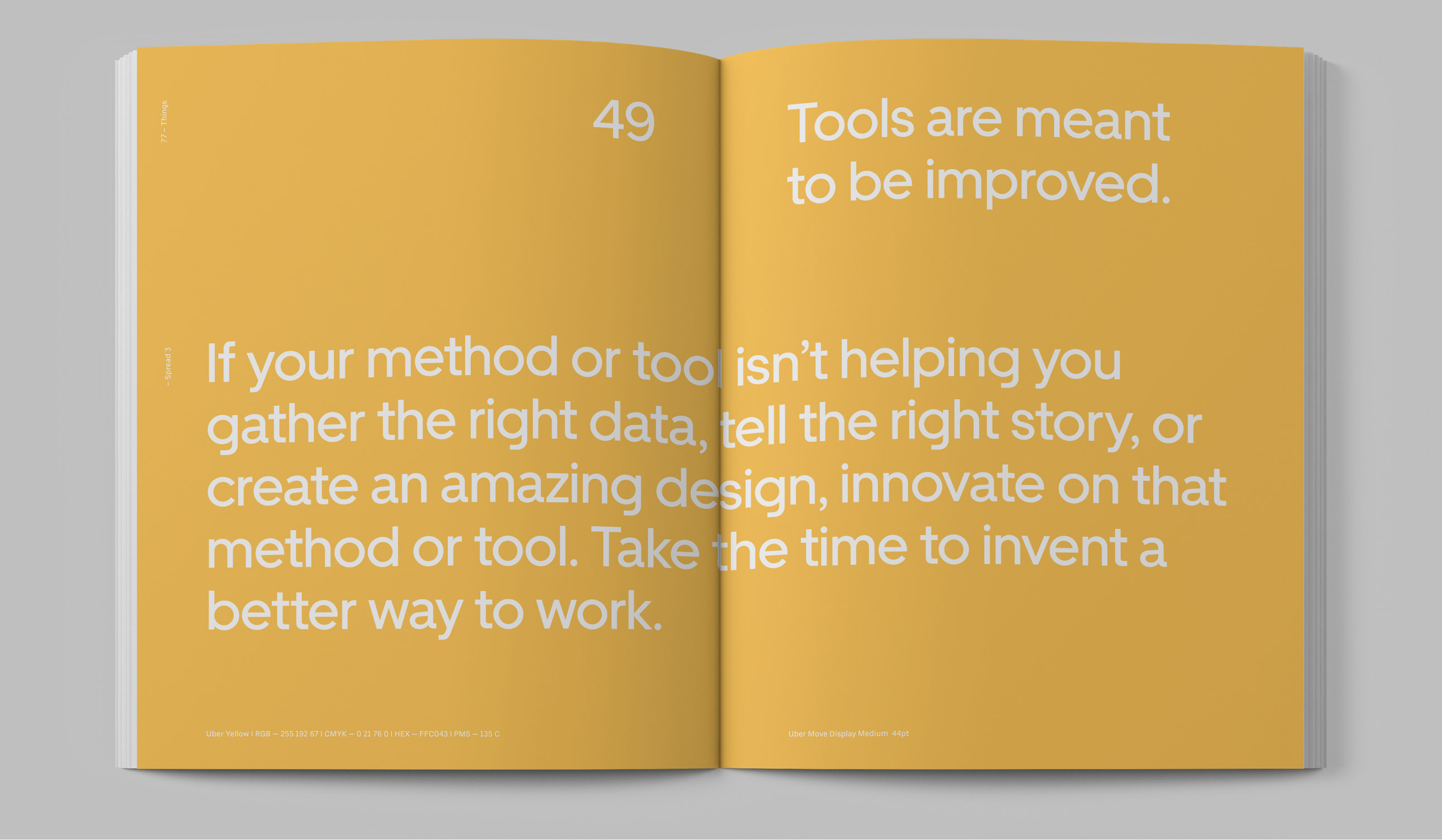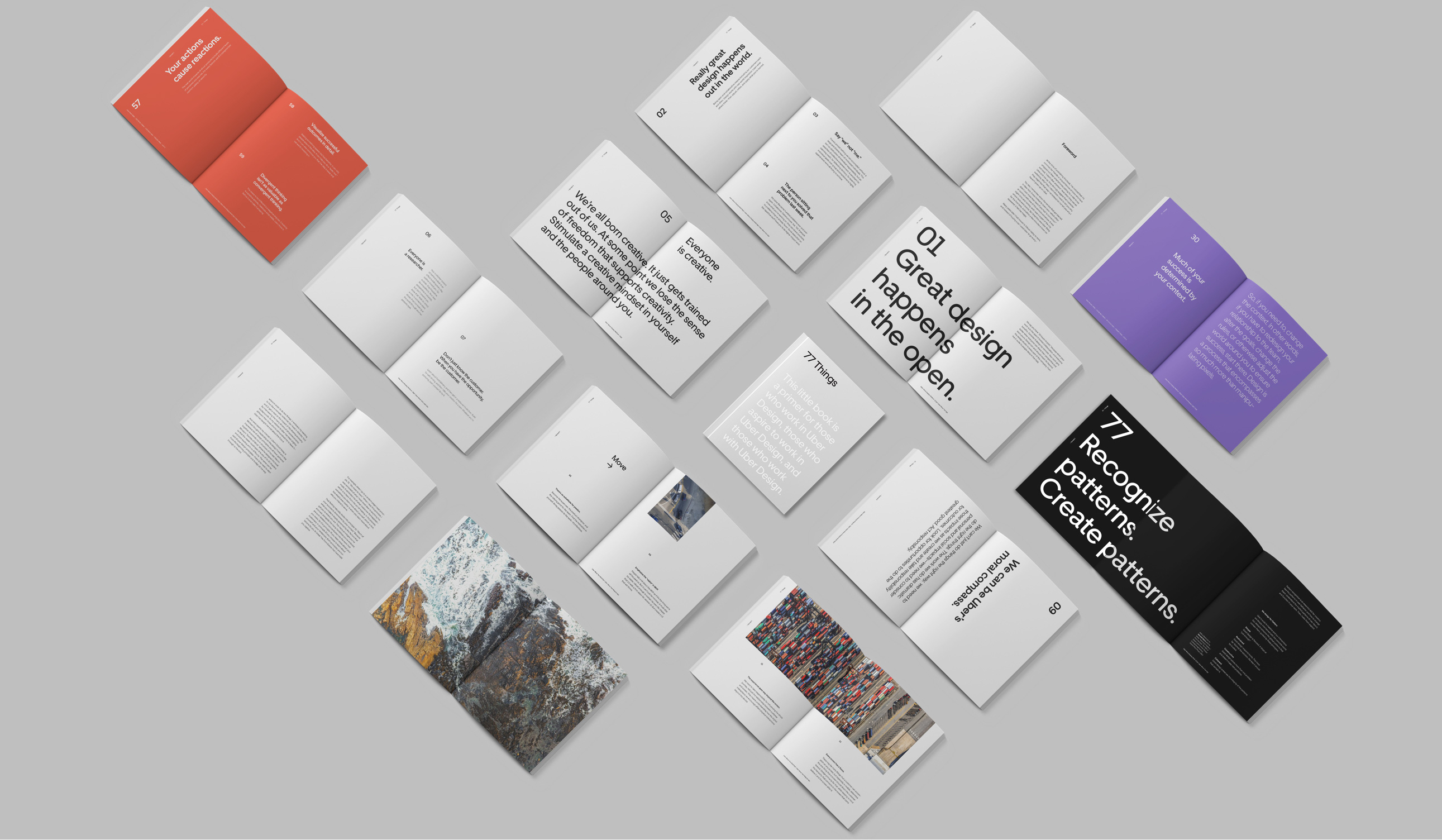 Uber Move in use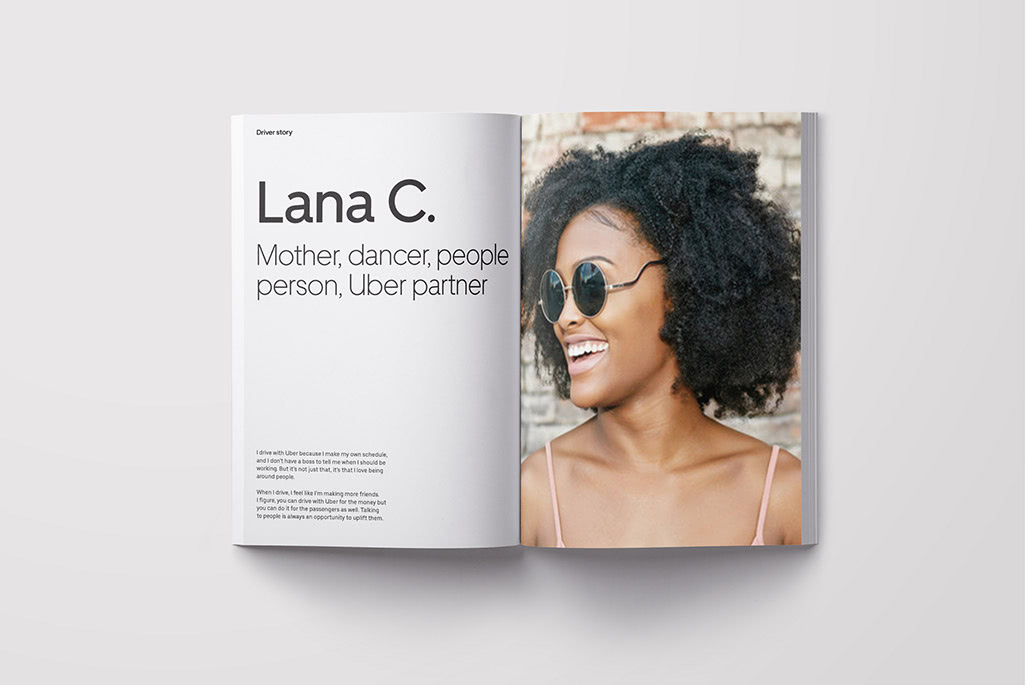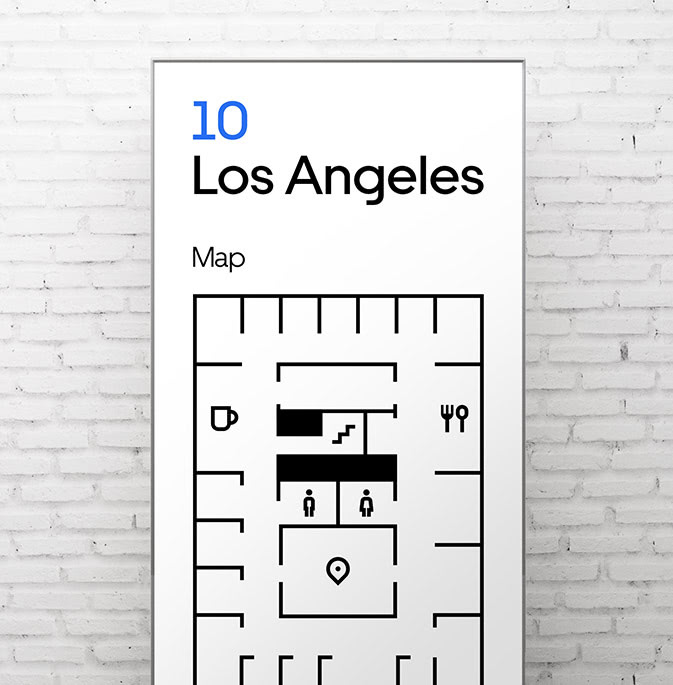 The Arrow
The arrow is part of our iconography, but can be used in copy as a shorthand between destinations, whether geographic or states of mind.
Iconography
Our icons are inspired by global transportation iconography and drawn from the same shapes as our typeface, creating a seamless system from text to icon.
System Icons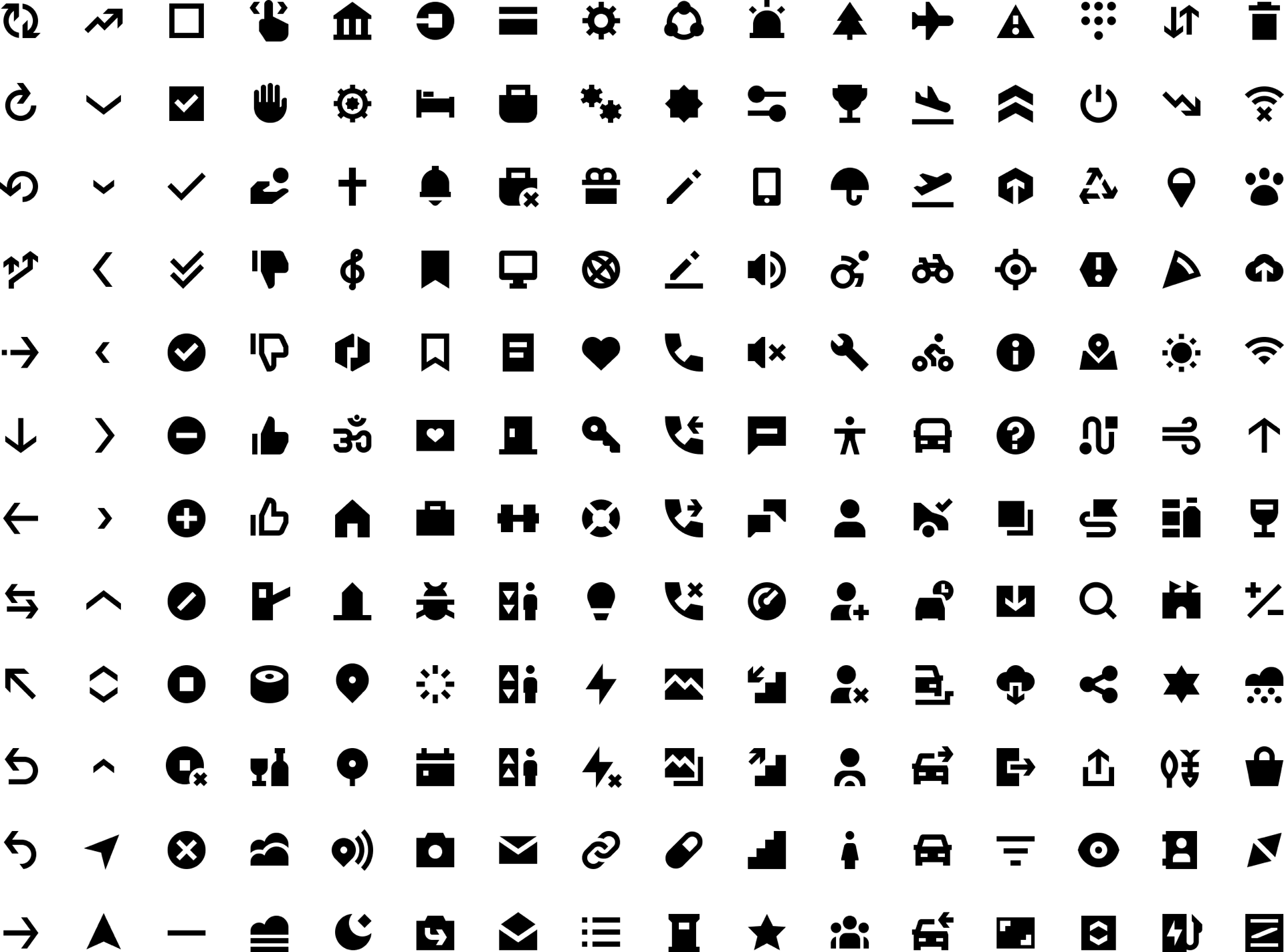 Icons in use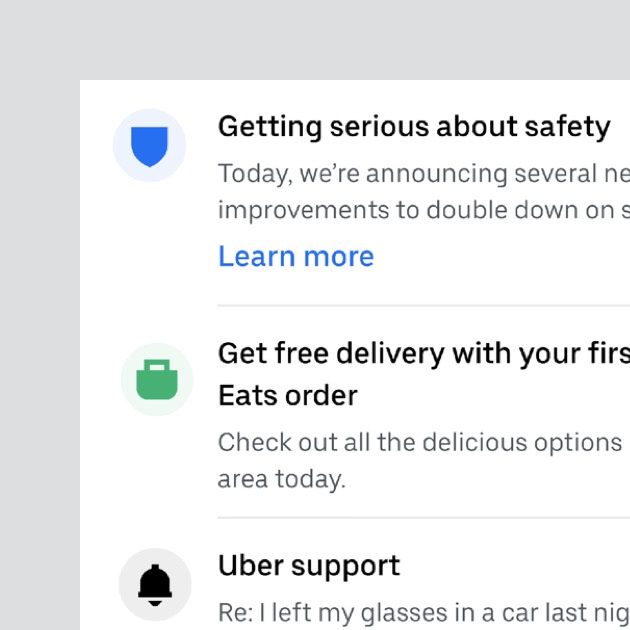 Color
A tight color palette, dominated by black and white, draws on the colors used in global navigation.
Accessibility
We're a brand for everyone. The high contrast of black and white makes our text as legible as possible.
21:1
Contrast ratio:
legibility for everyone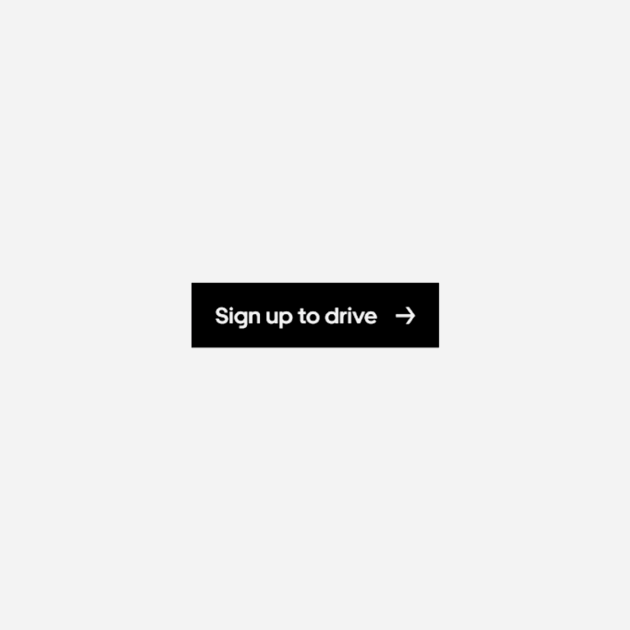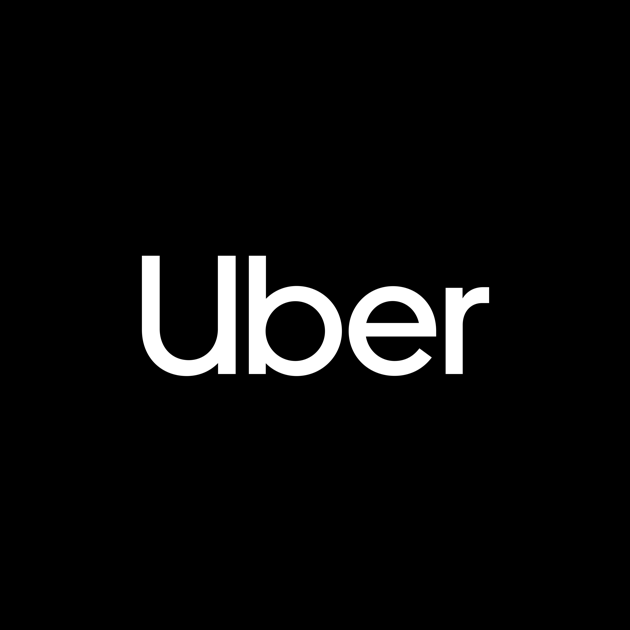 Safety blue
Safety blue is unique to Uber. We use it sparingly to call out moments of support, assurance, and other important interactions between a user and the brand.
Safety colors
RGB — 39 110 241
CMYK — 90 30 0 0
HEX — 276EF1
PMS — 2174 C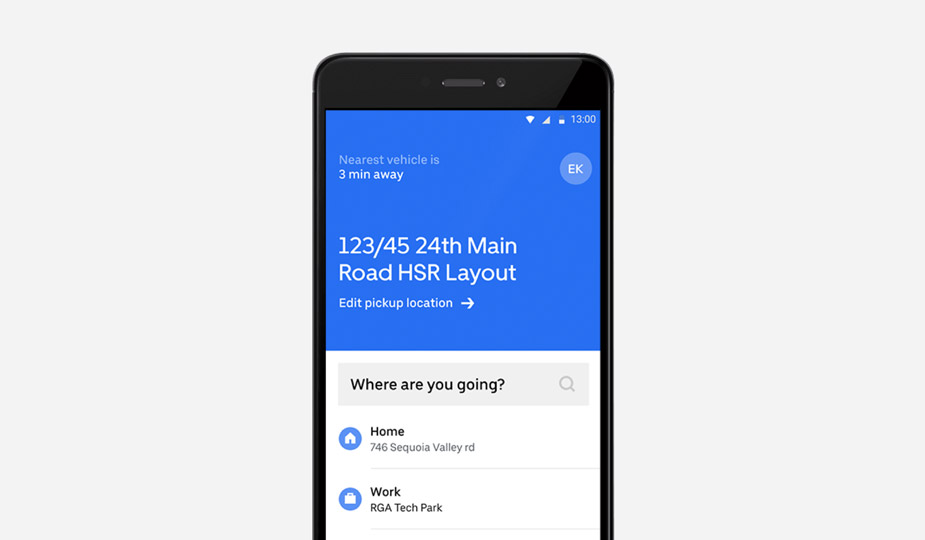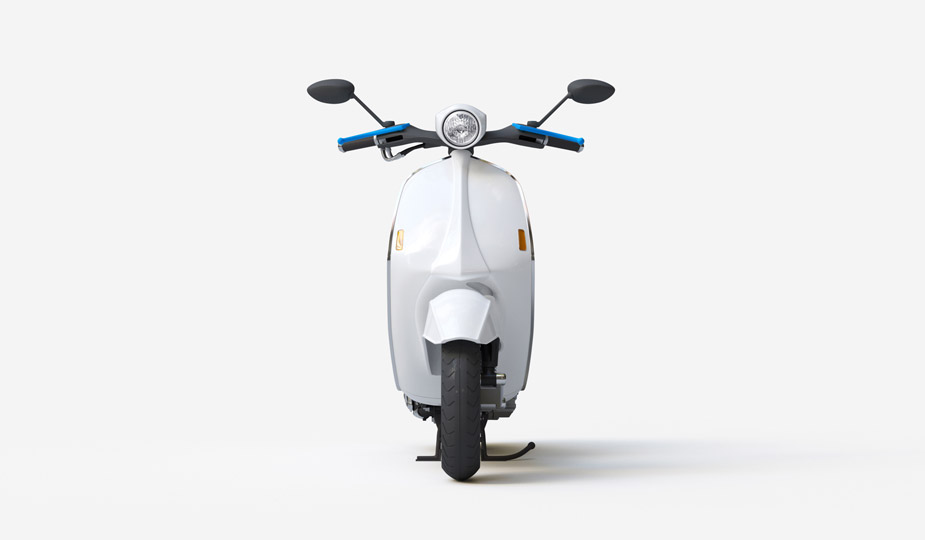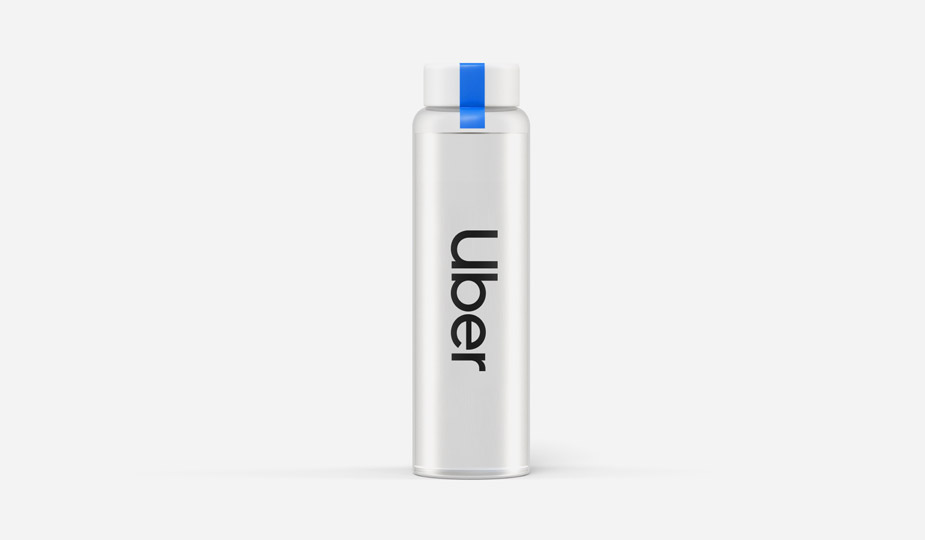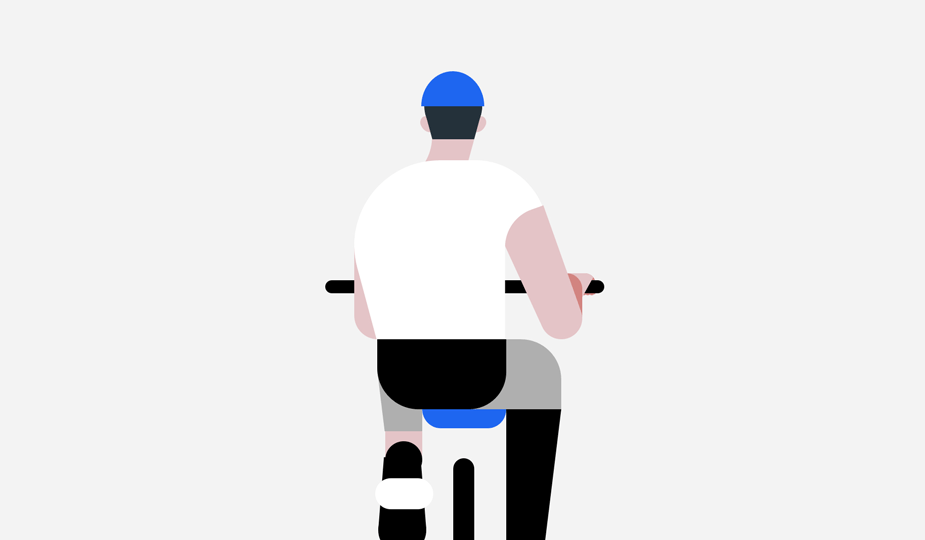 Motion
Our motion system expresses the simple, easy movement our company makes possible. By building out a broadcast package and looking at key motion states within the product, we're laddering both of them up to one set of motion principles and base motion states with the goal of creating a completely own-able motion system.
Stories
Photography
Our photography inspires our audience of young and old, partners and customers, local and global. It builds on how it feels to move from motivation at point A to the emotional payoff of arriving at point B.
Art Direction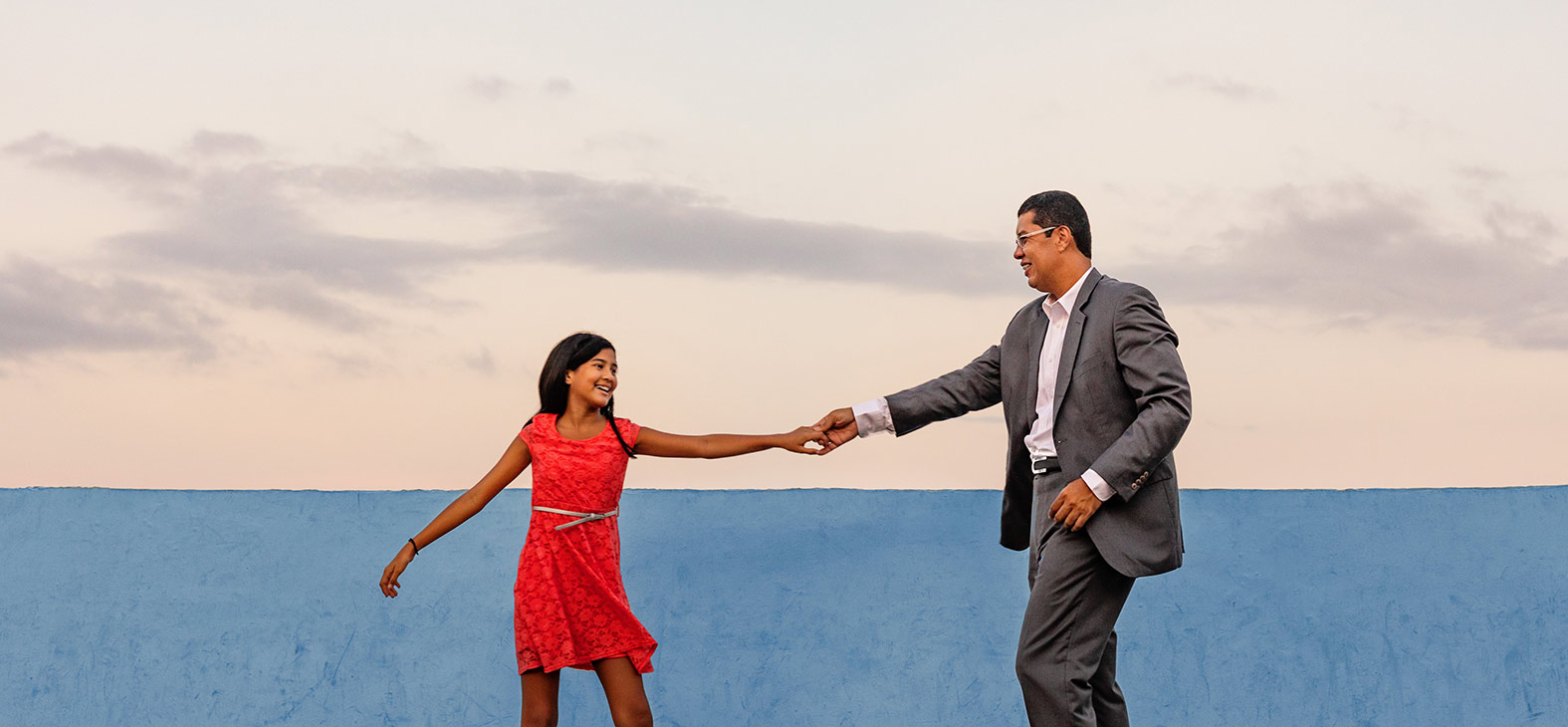 Interaction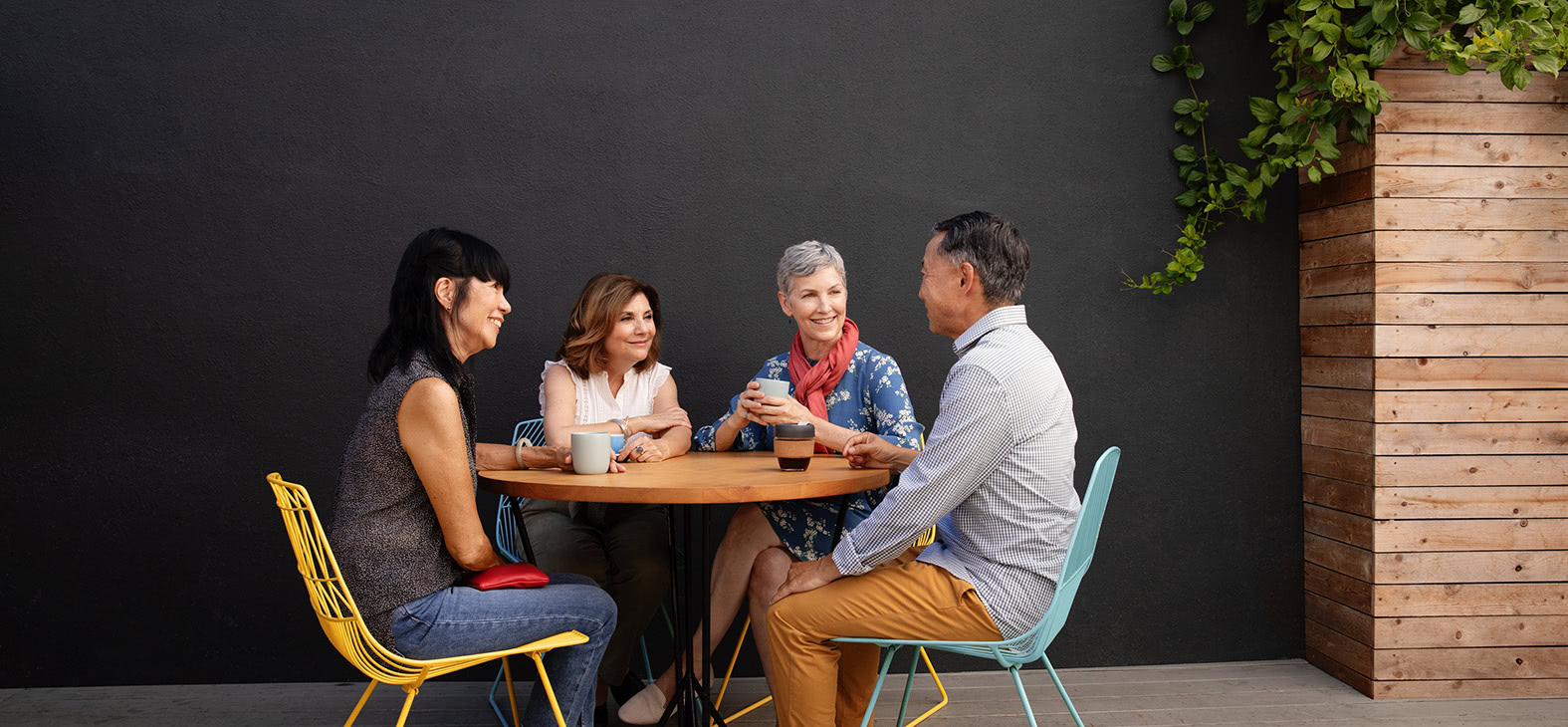 Compositions
Casting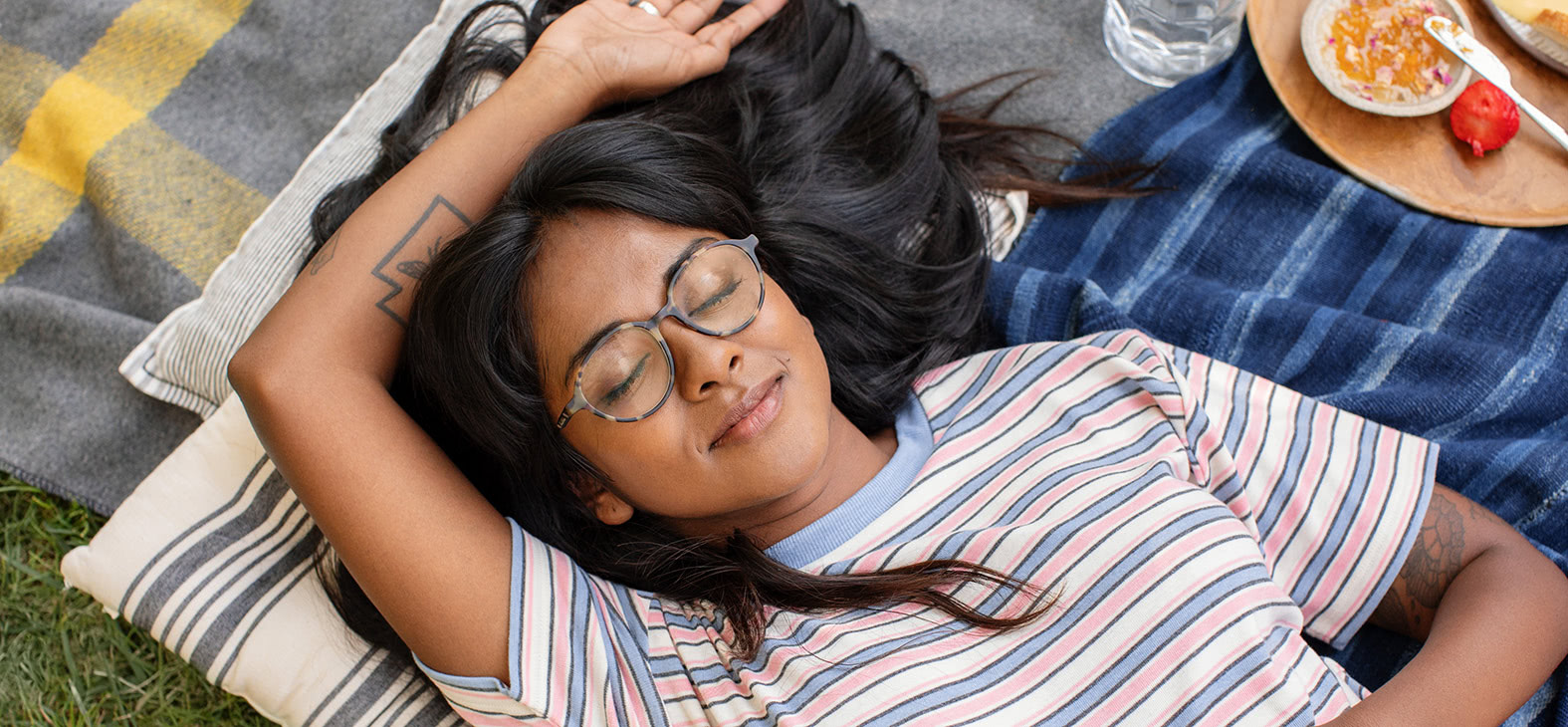 Lighting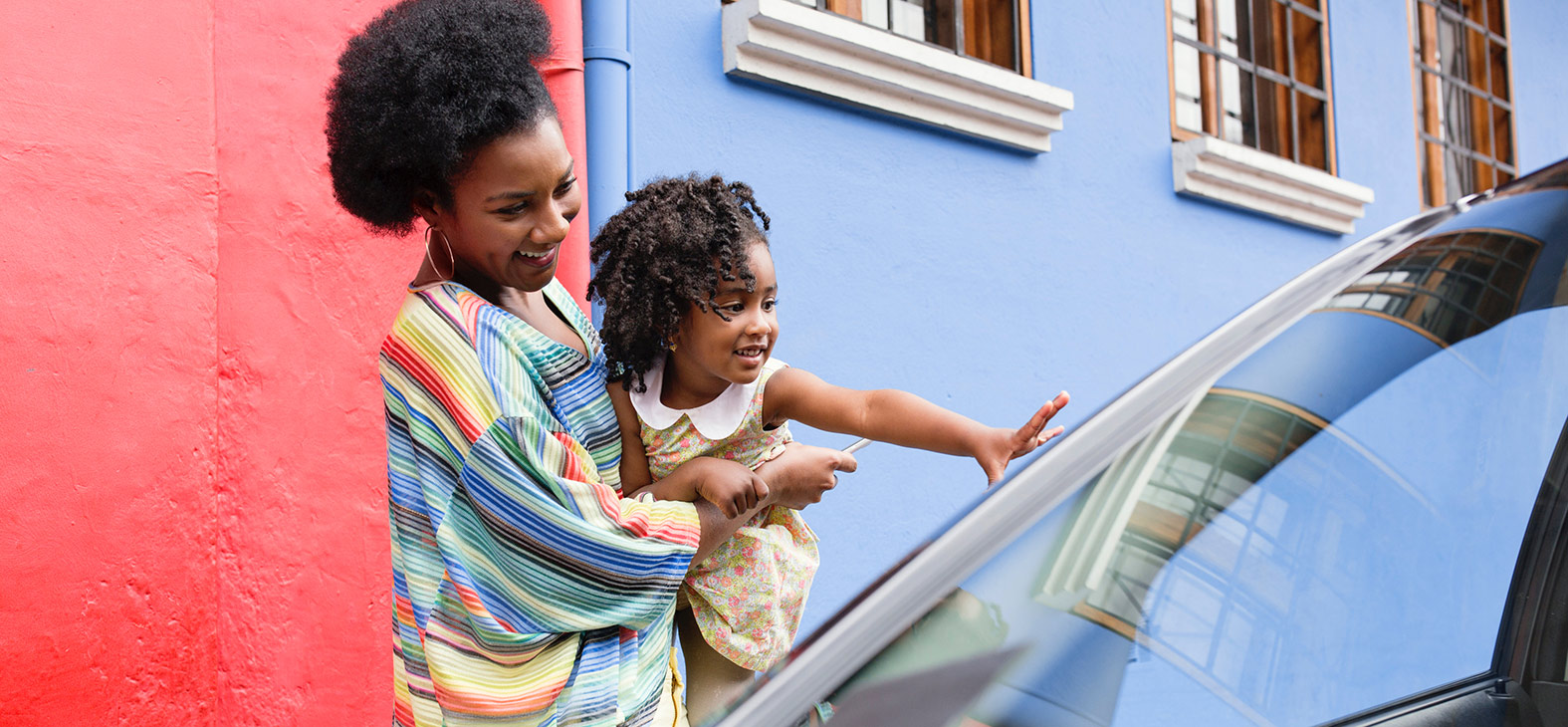 Local Character
Shot list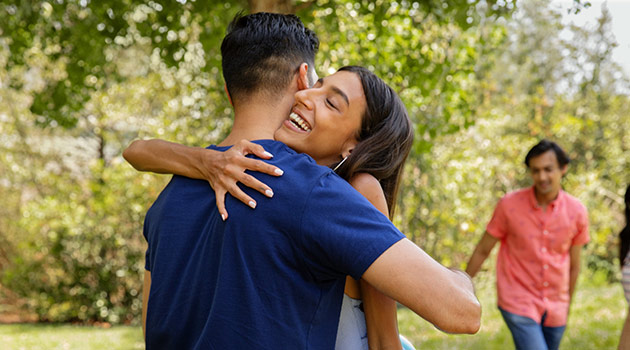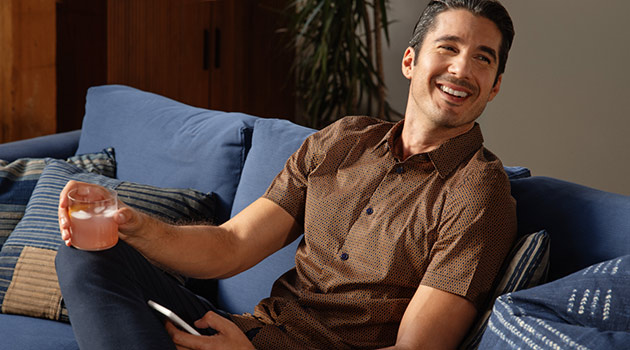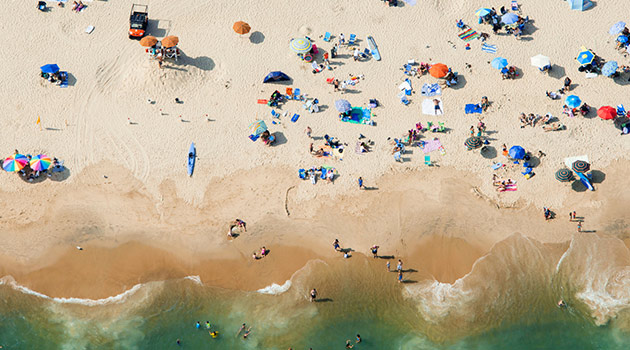 Real Driver-Partner Stories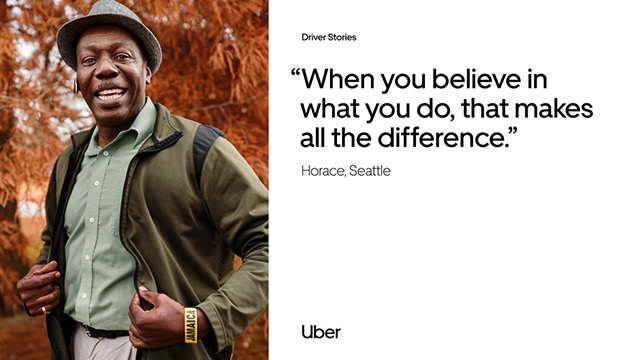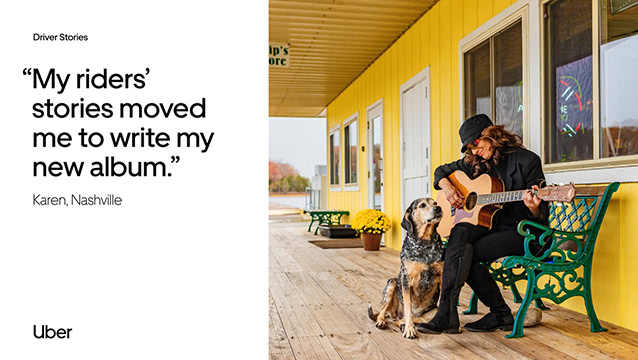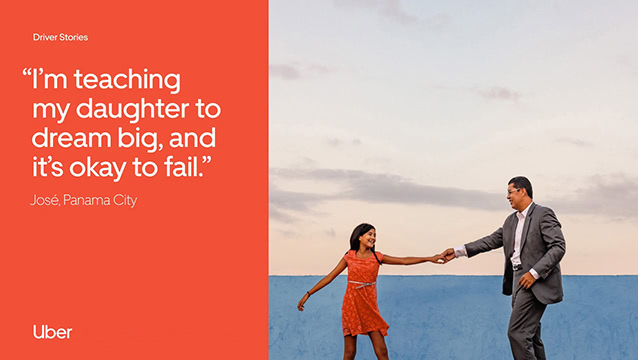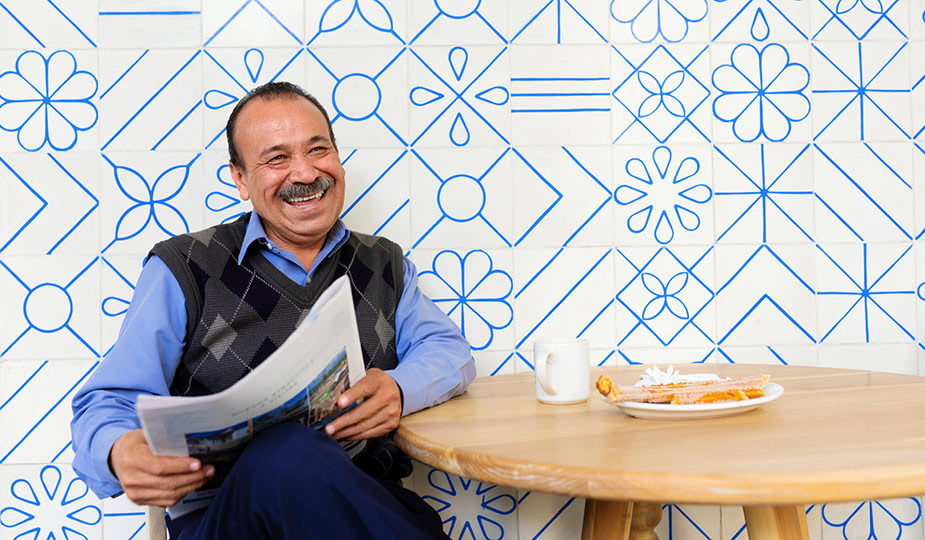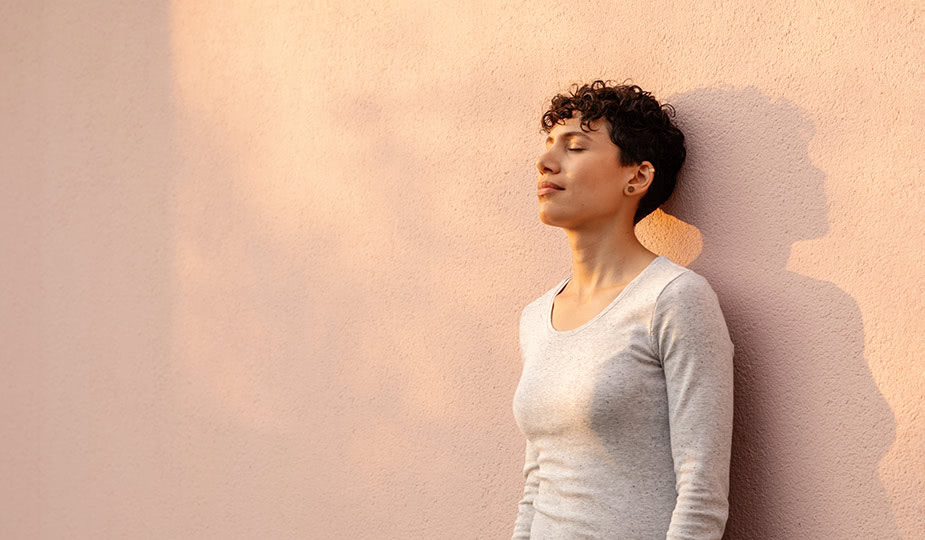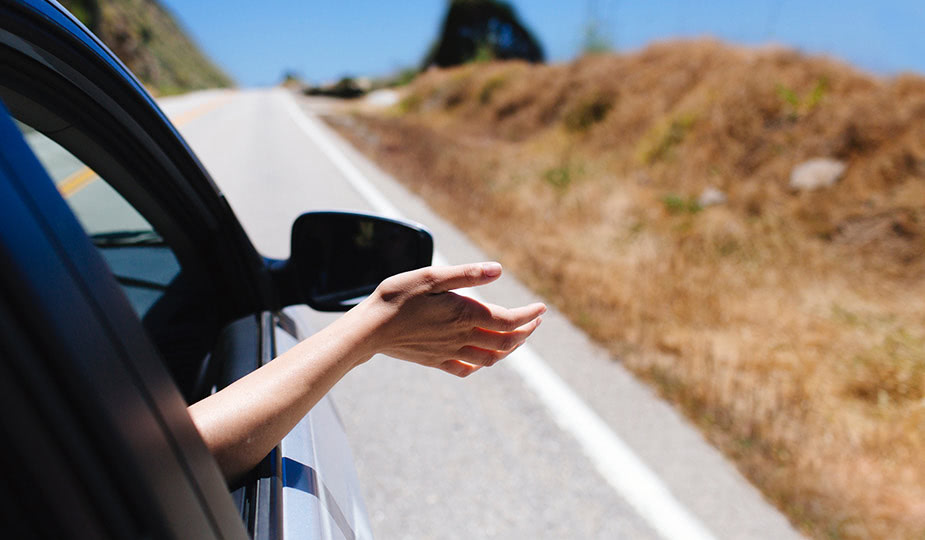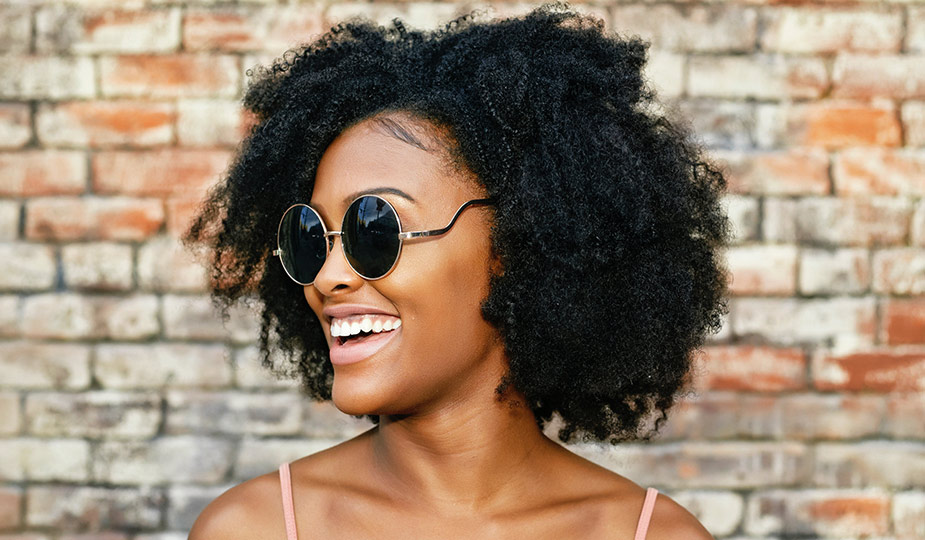 Illustration
Our illustration draws from our logo and the transportation language inspiration of our typeface. Simple shapes, clean lines, limited color, and heightened reality give our illustration a branded feel and make it easy to understand at a glance.
Principles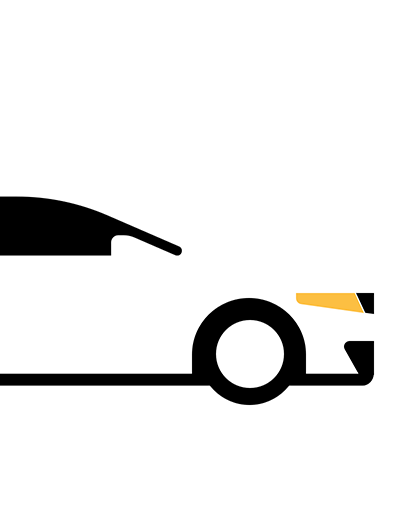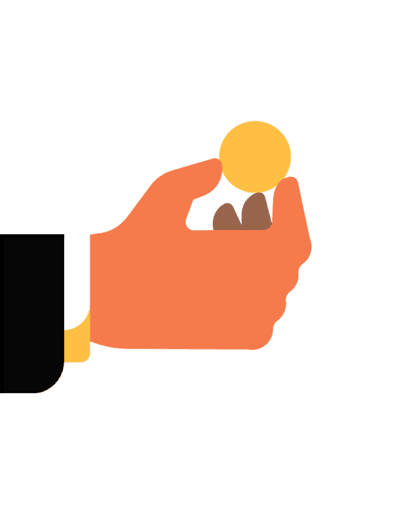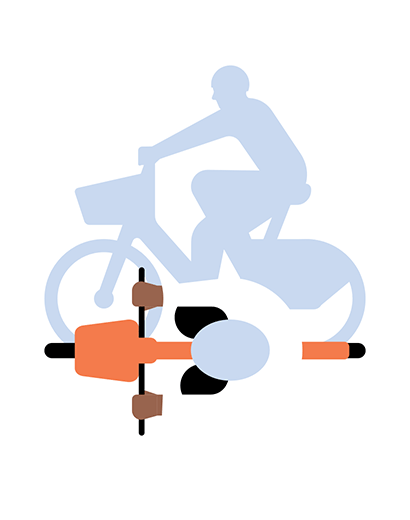 Geometric Construction
Basic geometric shapes make up our illustrations. White is strategically used to highlight interplay between foreground and background.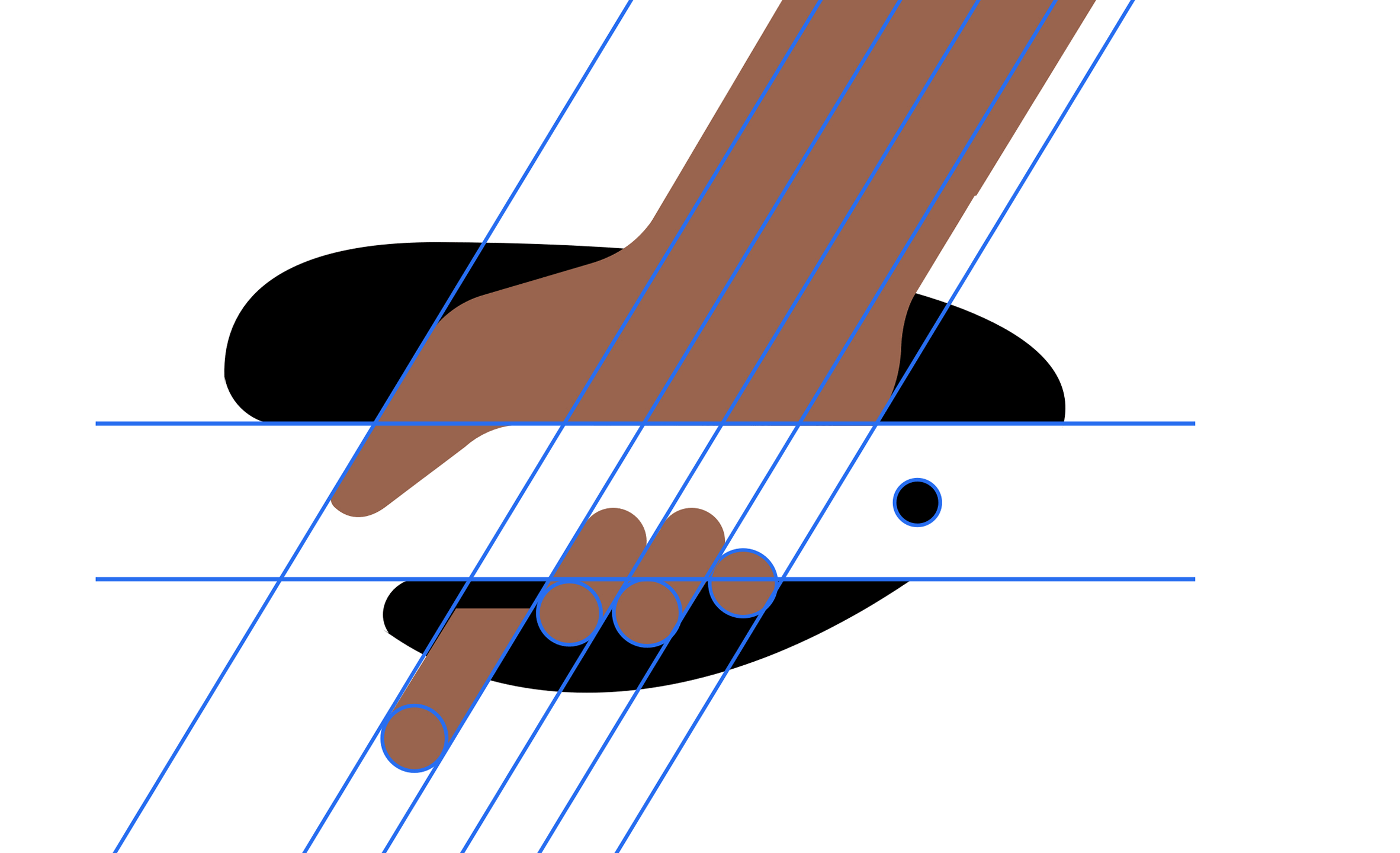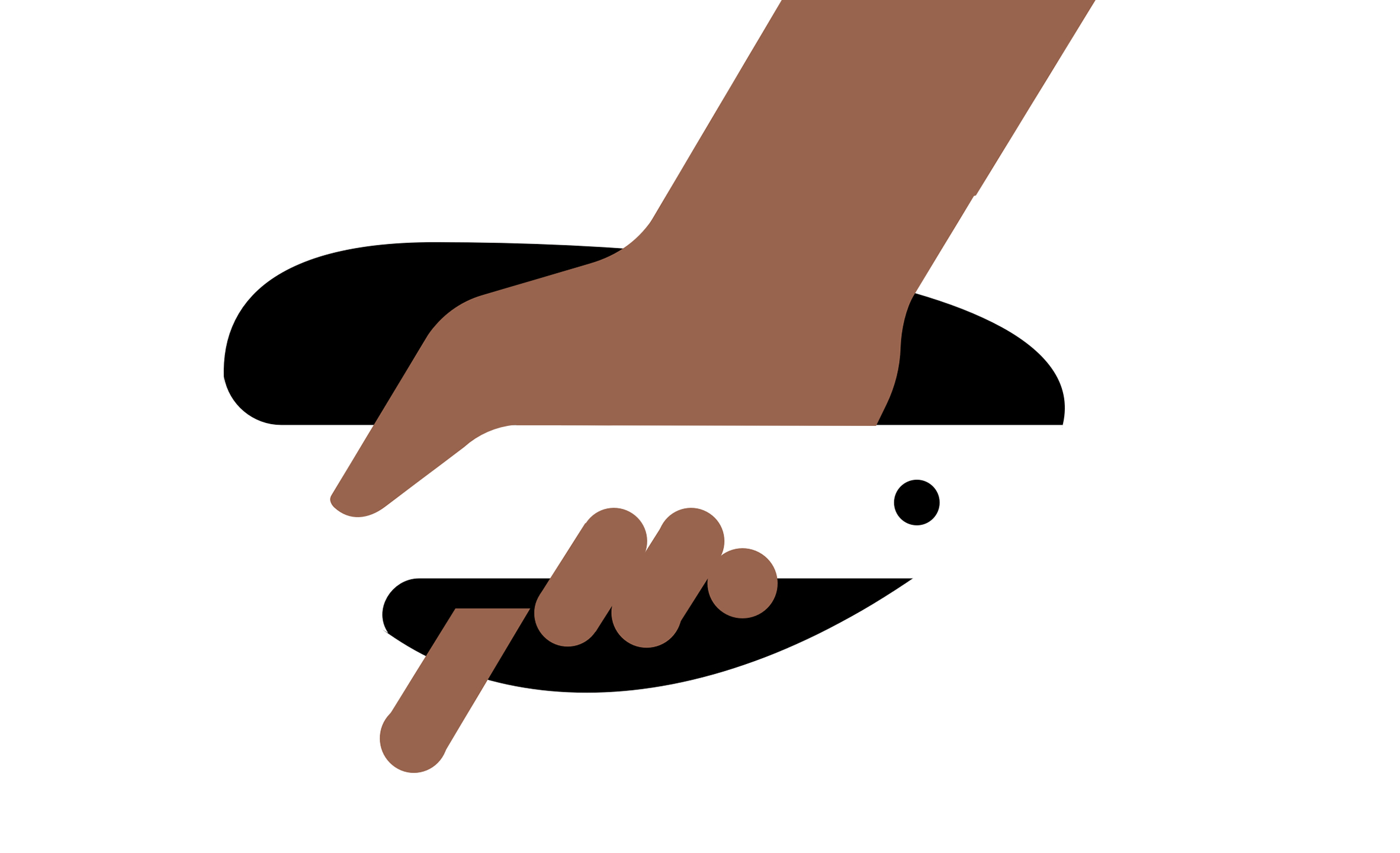 Illustration in use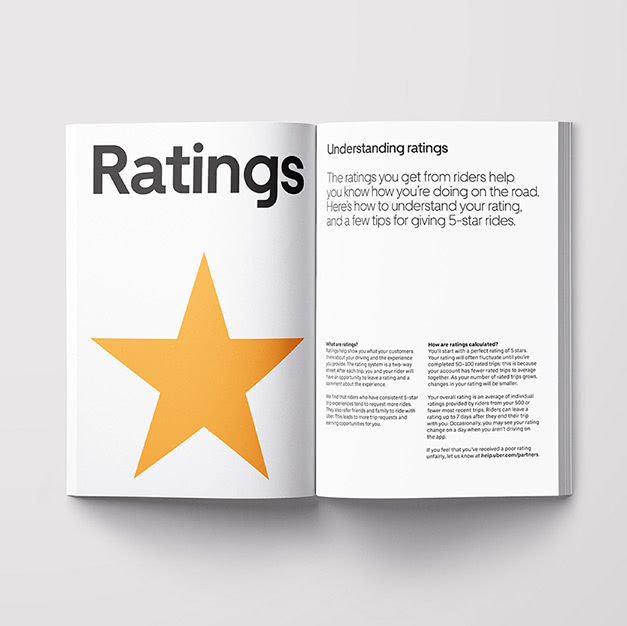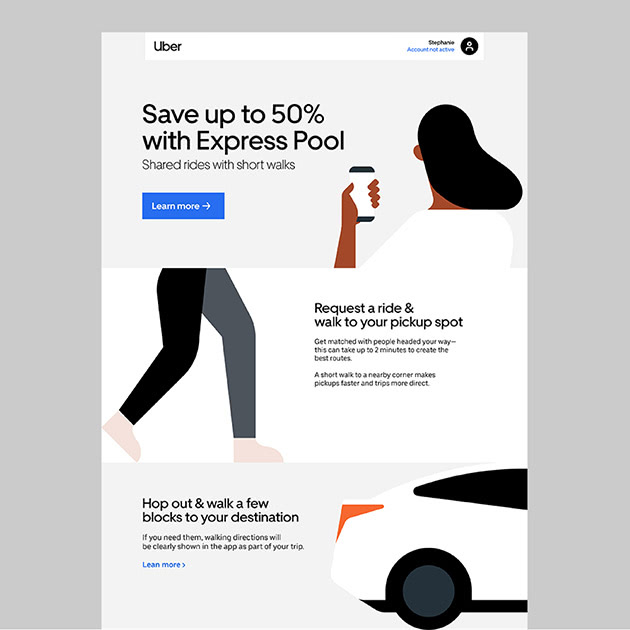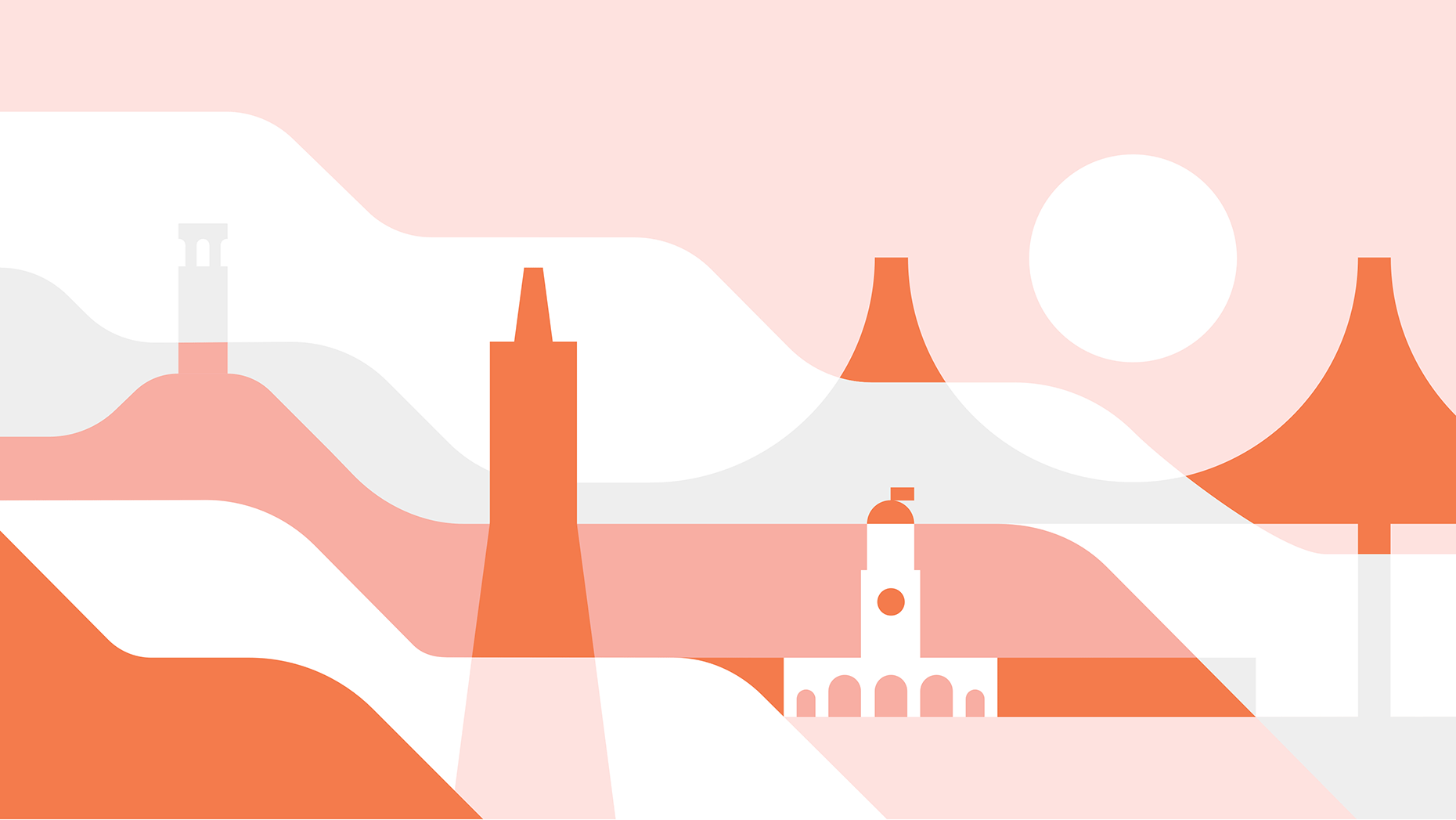 Tone of voice
Our global tone of voice focuses on the mindset we share with our users: we see the world as it could be and work to make it a reality. Beyond word choice and style choices, our tone of voice focuses our belief in putting our audience first.
Guiding principles
01

Audience-first communication

02

Straightforward and easy to understand

03

Recognizability through consistency
Summary
Built from stakeholder input from around the world and tested on the ground with creative teams, our brand system is simple, flexible, and globally recognizable.
Find the perfect fit
We're looking for talented creatives from all disciplines. Our team is focused on creating beautiful, functional designs that fit people's lives. We'd love for you to join us.